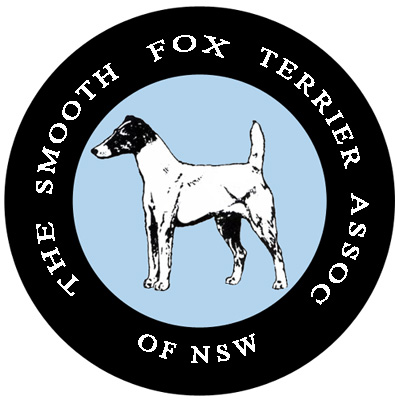 The Smooth Fox Terrier Club Of NSW
.........
Championship Show 9th Oct 2016
THE BILL SPILSTEAD COMPLEX FOR CANINE AFFAIRS LUDDENHAM ROAD, ERSKINE PARK
JUDGE: Ms E Parker (ACT)
Smooth Dogs, Smooth Bitches, Classes 1 2 3 4 5 10 11 Dogs & Bitches BEST IN SHOW - Veteran, Brace, Parent & Offspring
JUDGING COMMENCES: 9.30 AM ring TBC
ORDER OF JUDGING: Smooth Dogs - Smooth Bitches - Classes 1 2 3 4 5 10 11 Dogs & Bitches BEST IN SHOW - Veteran - Brace - Parent & Offspring SPECIAL CLASSES:VETERAN, PARENT & OFFSPRING & BRACE (To be on separate Entry Form) PROPERTY CLASSES: Best Headed - Best Gaited - Best Tan & White (Judged on Colour only) - Best Coated (Judged on Coat only) (Enter classes on the day) BIS & RU/BIS cannot compete in these classes)
HANDLER CLASSES: Child Handlers 7 & under 10 - 10 & under 13 - 13 & under 17 Boys & Girls - Lady & Gentlemen Handlers (Enter on the day)
NSWCC REP: Mr. P. Pickett
ENTRY FEES: Members $15 First Entry Special Classes - $5 (To be on separate entry), Property Classes - $1 (Enter on the day)
CATALOGUE: $4 each
ENTRIES CLOSE:30th sept 2016
The Show Secretary
SFTCNSW
Mrs. J Hockey
P. O. Box 798
Goulburn N.S.W. 2580
Phone:(02)4822 0151 roughstock1@bigpond.com.au
All remittances to be made in favour of THE SMOOTH FOX TERRIER ASSOCATION OF NSW
Bitches in Oestrum may be shown.
All entries to be accompanied with a Stamped Self Addressed Envelope.
The Club reserves the right to appoint a substitute Judge should it be necessary.
The show will be conducted under the Rules and Regulations of the Royal NSW Canine Council.
All prizes, challenge certificates, ribbons etc. must be collected on the day of the show.
PAGE UPDATED 25/7/16
The Fox Terrier Book by Bill Polley is available at http://www.foxterrierbook.com/